15 mins read
Offshore Software Development Rates by Country: Detailed Guide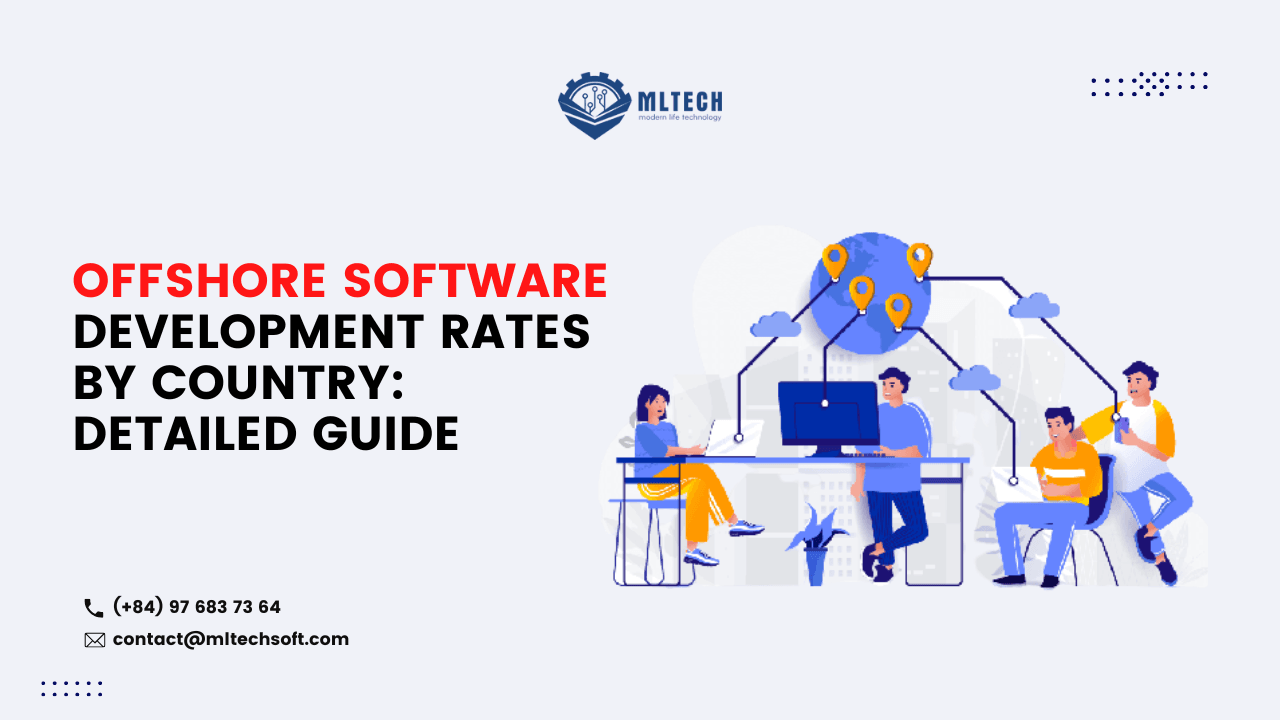 As a model for structuring business processes, outsourcing software development is now widely accepted and advantageous. However, you will be amazed at the country-by-country differences in offshore software development rates in some parts of the world. The average hourly rate for offshore software development in Ukraine is between $30 and $50, whereas the same service can cost anywhere from $100 to $150 in the United States.
In this article, we'll discuss offshore software development rates by country and compare developer costs around the globe. Let's explore with MLTech Soft.
1. Offshore software development rates by country: a detailed overview
The market for IT outsourcing generated nearly 527 billion dollars in 2021. There are currently hundreds of IT outsourcing hubs worldwide. Rates, development quality, culture, expertise, differences in time, and many other factors distinguish them all. Therefore, if you want to hire a development team, you should take into account all of these characteristics, evaluate them, and select one of the best countries for offshore software development.
When it comes to rates, there are two significant categories of outsourcing destinations: the United States, Australia, Western Europe, Israel, the United Arab Emirates, and other nations and regions with stable economies and high quality of life. Rates for outsourcing IT typically range from $50 to $300.
Regions like Latin America, Africa, Asia, and Eastern Europe have less developed local markets. They are frequently portrayed by lower seaward improvement rates and countless trained professionals.
Recently, economies in less developed regions have emerged as significant players in global IT outsourcing. They now produce a significant portion of mobile and web solutions and have developed into trustworthy and productive IT hubs. Therefore, let's begin our summary of them.
2. The cost of offshore development in Eastern Europe
Consider the possibility of working with remote developers from Eastern Europe. This area has developed over the past few years into one of the largest offshore outsourcing hubs, housing more than 1 million highly trained individuals and providing affordable web development. Ukraine, Poland, and Romania serve as its primary outsourcing hubs, with each country's typical offshore software development costs ranging from $25 to $55.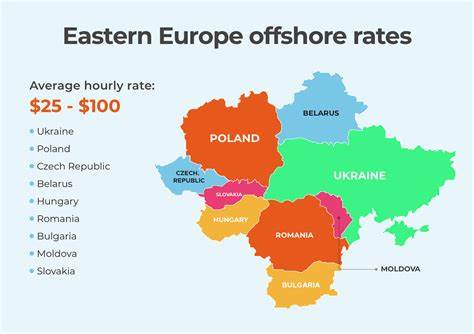 While development costs in Eastern Europe are reasonable, the quality is also promising. This region offers solid expertise proven over years.
Offshore Software Development – Ukraine
Rates: $30-55 Popular tech stack: Python, Java, Ruby
Ukraine is now the most popular destination for IT outsourcing worldwide and in Eastern Europe. The nation currently ranks among the best countries for offshore software development. Additionally, the country's software developers offer high-quality services at cost-effective rates. The rates range from $30 to $55 on average in Ukraine, though some rates for junior developers can be as low as $20.
Its pool of talent is also not up for discussion. There are over 250,000 developers in Ukraine. The majority of offshore software development teams in Ukraine have advanced degrees and expertise. This location is so appealing because of its strong technical education and expertise.
The nation has around 29,000 tech graduates a year. Ukrainian programmers are in high demand far beyond Ukraine's borders due to their proficiency in the majority of programming languages. When choosing a location in Eastern Europe to hire a development team, many international businesses choose Ukraine.
Offshore Software Development—Poland
Rates: $35-55 Popular tech stack: Java, SQL, Python, C++
Rates for outsourcing development are slightly higher in Poland than in Ukraine, which is next door. However, the country's high living standards and excellent technology education can account for the high hourly cost of software development. Polish outsourcing also has a lot of established businesses and freelance specialists.
Offshore Software Development – Romania
Rates: $25-45 Tech stack: PHP, Java, JavaScript
Don't neglect these destinations while searching for affordable web development. The rates here are affordable, ranging on average from $25 to $45. Yet, the expertise is promising: Romanian developers are proficient in the most complex databases, languages, and algorithms.
3. Offshore development rates in Latin America
Latin America should also be considered when choosing a destination to hire a remote development team. It offers competitive talent, reasonable rates, and a convenient outsourcing location.
If you decide to outsource your development to South America, be ready to pay $30 for a junior specialist, while a senior developer's hour could cost around $55.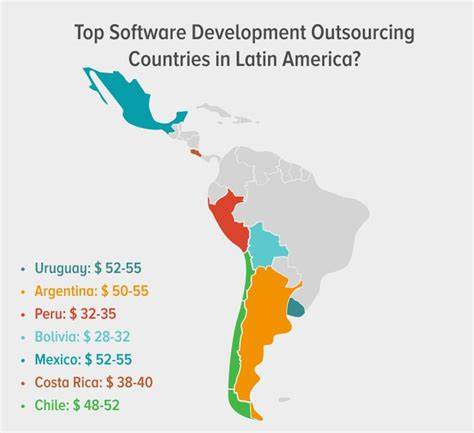 Argentina
Rates: $30-55 Tech stack: Java, Python, SQL
One of Latin America's most advanced offshore IT markets is Argentina. It provides a substantial pool of Western European-popular technical talent. Argentina has established itself as a significant player in the IT industry worldwide, growing economically and culturally within close proximity to European nations. Seaward engineers' rates in this city range from $30 for junior developers to $55 for senior developers.
Peru
Rates: $30-50 Tech stack: Node.js
Last year, the country's IT sector experienced +9% growth. With average software development rates of $30–50, Peruvian developers are technically educated, fluent enough in English, and well aware of US business processes.
Brazil
Rates: $30-55 Tech stack: Java, Python, SQL
The average hourly wage in Brazil is between $30 and $50. One of the world's leading offshore outsourcing hubs is located in this nation. According to the Tholons Services Globalization Index, Brazil is currently ranked among the top 50 IT nations in the world and will be among them in 2021.
Additionally, this region is well-known for its abundance of technical engineers: 2.1% of Brazil's formal employees are STEM (science, technology, engineering, and mathematics) professionals.
4. Offshore development costs in Africa
Africa hasn't been a popular destination for offshore development until recently. In 2019, Microsoft made a $100 million investment in African developers. As a result, the African market for IT outsourcing exploded. Kenya, South Africa, Morocco, Egypt, and Nigeria are important IT hubs. The typical cost ranges from $20 to $45.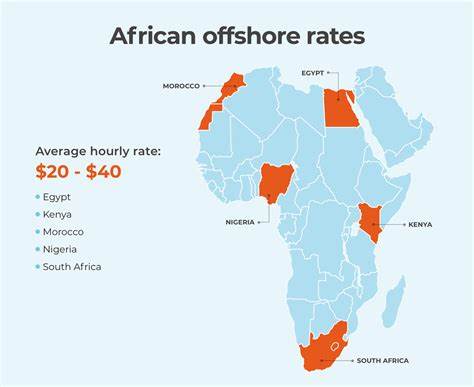 South Africa
Rates: $20-50 Tech stack: Java, Python
South Africa leads the continent's IT industry. In 2021, Tholons included the country in the top 50 digital nations. Its geographical location also contributes to the region's growing IT market; South Africa's time zones overlap with those of most European countries.
East Africa
Rates: $20-50 Tech stack: Python, Javascript, PHP
The biggest IT outsourcing hub in the eastern part of Africa is Kenya. Apart from the reasonable rates, there's another plus: hire offshore developers from this country, and you won't have to worry about their English proficiency. That's thanks to the country's policies, which made English an official language in Kenya.
North Africa
Rates: $20-50 Tech stack: PHP, Python
The northern part of the continent also shares a time zone with most European countries. Offshore developer rates here don't differ from the rest of the continent. Key IT-outsourcing countries are Morocco and Egypt. Some of the biggest global telecommunications providers even placed their R&D centers in Egypt (Vodafone, Intel, etc.).
Western Africa
Rates: $20-50 Tech stack: SQL, Java, Python
For West Africa, the top region for offshore development would be Nigeria. The country's IT market is only evolving but has excellent potential and a talent pool. Understanding the benefits of an advanced local IT industry, the Nigerian government actively invests in developing the market and educating developers.
5. Software development rates in Asia
This region's most significant competitive advantage is its low offshore software development rates, which sometimes range from $18 to $45. With its 10 million tech specialists, Asia has lots to offer. Yet, affordable offshore rates for software development and a vast talent pool are sometimes achieved at the expense of good product quality and great cultural and time differences. Asia's biggest IT outsourcing hubs are China, India, Vietnam, Malaysia, Indonesia, the Philippines, and Bangladesh.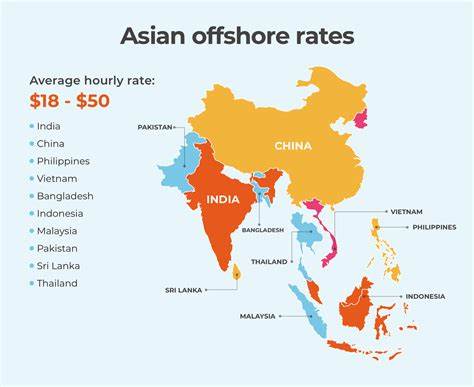 India
Rates: $25-$50 Tech stack: Java, C++, Python
One of the best nations for offshore software development is India. The typical offshore developer fee is between $25 and $50. When selecting a location to outsource software development, the country's widespread English proficiency is a significant advantage. However, the quality of the finished product may be a problem. Since there is no legal system in place to enforce quality standards, your success depends on your ability to locate trustworthy developers.
China
Rates: $50-80 Tech stack: Python, Algorithm and Functional Development
The region boasts a rich talent pool of skilled developers. The Chinese software development cost per hour is slightly higher than in other Asian countries ($50–$80). More advanced local economies and specialists are responsible for this price. The language barrier is among the main concerns for companies looking to outsource to China. So, having recognized the poor level of English proficiency throughout the country, the Chinese government started to invest in numerous initiatives to educate the local population.
The Philippines
Rates: $25-50 Tech stack: PHP, ASP.NET, Ruby on Rails, ASP.NET
The country's designers have a very decent degree of English. Furthermore, a solid technological foundation and a well-defined IT framework are required. Additionally, the country's political and economic stability boosts its appeal to IT outsourcing clients.
Vietnam
Rates: $20-40 Tech stack: Java, PHP, and .NET
For Vietnam, average offshore software development costs are $20–40. The country has been regularly ranked among the top global outsourcing destinations. Vietnam can be characterized by deep expertise, numerous technical specialists, and high language proficiency.
6. Destinations with high rates
The normal thing for these nations is their somewhat high rethinking and advancement rates. The cost of development software can reach up to $150 per country here. These figures are the result of well-developed internal markets, elaborate economies, and a high quality of life in the chosen locations.
The United States of America
The United States of America consistently ranks among the nations with the highest levels of digital competitiveness worldwide. However, the region is one of the most expensive destinations for IT outsourcing due to the particulars of its national market, economy, and tax system. Prices for offshore software development in the United States can range anywhere from $70 to $150.
Western Europe
Western Europe's high-tech sector is bolstered by the region's advanced tax system and stable economy, which can explain the region's rates. Offshore developer fees range from $50 to $100 in Germany, France, and the Netherlands, whereas they can cost up to $200 in Switzerland or Scandinavia for the same services.
Australia
The Australian IT market is growing at this moment. However, there are some obstacles that prevent it from becoming a major offshore development hub: high rates, a faraway location, and a significant difference in time. In Australia, software development costs an average of $100–190.
Israel
Over the past ten years, the IT industry in Israel has grown by 400%. The country's software development rates are quite high. Let's contrast: In Ukraine, an offshore software development team member earns approximately $1,500, whereas a junior in Israel earns $5,500 for the same work. Israel's lack of technological expertise and more stable economic environment result in this striking rate difference.
7. Why outsource software development?
Outsourcing should be used by more businesses for obvious reasons. There must be some. Seaward programming advancement is advantageous in bunches; the most important are:
1. Lower rates
Rethinking sets aside your cash since it gives more reasonable choices to organizations. Most likely, the primary reason why so many businesses favor this cooperation model Why are rates lower? The stability of an area's economy, the value of its currency, and the state of the local market all have an impact on the average rates for software development in that area or country.
It appears that some states, including those in Western Europe, Singapore, the United States, and Australia, have much more stable economic conditions and, as a result, higher rates. In addition, the majority of developing nations—India, Algeria, Ukraine, Brazil, and Brazil—have low per capita incomes, making their prices more affordable.
However, cheaper does not imply inferior. We used to think that cheaper teams would have lower quality, but IT outsourcing doesn't always have to worry about that. The quality of offshore software development is fairly high and supported by a substantial educational background in some nations, such as Poland and Ukraine.
2. Greater expertise
Not all outsourcing entails hiring developers. It also involves acquiring more in-depth and appropriate technological knowledge. Your in-house team wouldn't have the same broad perspective as developers who work offshore, no matter how experienced they are.
Their diversified portfolio is their main advantage. Developers who work in outsourcing deal with numerous databases, dozens of languages, and hundreds of distinct business issues. The offshore team is so valuable because of this. A seaward programming improvement organization that has worked on projects similar to yours can refine your thinking while avoiding any mistakes you may have made.
3. Time
Seaward improvement is likewise efficient. By hiring a remote development team, you can avoid wasting time and money on HR and administrative procedures that use up resources: competitor interviews, selecting methodology, onboarding, dangers of stopping, pages of inside documentation, without any end in sight. While you can focus on development, all of these "headaches" are the responsibility of your outsourcing partner.
4. Additional professional perspective
It is essential to discuss and analyze business concepts with professionals who can provide you with qualitative and sincere feedback. Outsourcing may also be useful in this situation.
Offshore software development means delegating your project to a team of experts, such as project managers, UI/UX designers, and marketing specialists. They might be able to give you a new perspective on your business idea, suggest ways to make it better if needed, and identify your strengths and weaknesses.
5. Ongoing development
Most people think that the difference in time affects the development process negatively. However, it may occasionally work in your favor. Think of time-shifting as a bonus because it lets you see the results of your comments early in the morning instead of late at night. Your outsourcing partner is working to polish your app while you sleep.
8. How are software development rates formed?
The cost of software varies by region. Why then? Clearly, you know about some fundamental cost-compensating factors, yet at the same time, we should rapidly outline them.
Tech stack:
Higher developer skills are required for a project with a rarer and more complex stack. As a result, the developer's hourly rate will rise. You can always use free online app calculators to get rough estimates for your web or mobile application development if you need to.
Destination of outsourcing:
As previously stated, the costs of development are determined by the particulars of the region. Countries with higher standards of living set higher rates.
Reputation and expertise: The prices you pay will be higher if you choose a team with more experience. The same is true for fame. In essence, you pay more for the safety and dependability of the results of your project.
Size of team:
You are responsible for paying each individual project specialist. The more work and roles there are, the higher the price.
Model of cooperation:
As a general rule, rethinking can be parted into two essential choices — IT re-appropriating all things considered or IT outstaffing
Conclusion
Innovation is the driving force for many businesses, and offshore software development can be the very approach you need for your company to have the tools and technology it needs to complete your project quickly and in a cost-effective manner. By being aware of offshore software development rates by country, finding a suitable solution for your future vendor would be easier and more feasible.
Get our blog
Want the latest and greatest from our blog straight to your inbox? Chunk us your details and get a sweet weekly email.
MLTECH SOFT
Submit your CV